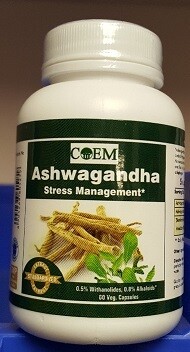 Ashwagandha
SKU ASH
Product Details
Each capsule contains 250 mg Ashwagandha Roots Powder and 100 mg of extract (as dry extract) from Ashwagandha Roots (Withania somnifera) (20:1) (equivalent to 2000 mg of Ashwagandha Roots). When assayed these capsules contain Alkaloids NLT 0.8%, Withanaloids NLT 0.5%.
Ashwagandha has been used since ancient times for a variety of conditions. It is considered to possess strong anti-oxidant properties. It helps nourish the nervous & Immune system by normalizing energy levels & immune functions.
Stress relieving properties - may help in Stress Management.
Calm & Rejuvenating.
Supports resistance to fatigue.
Take 1 capsule twice daily or as directed by physician.
For better results take with warm water.
Save this product for later