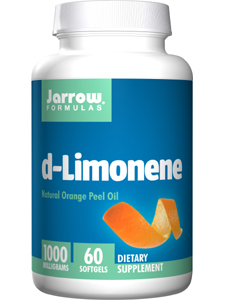 D-Limonene 1000 mg 60 capsules
SKU DLO
Product Details
Jarrow Formulas® d-Limonene is a citrus essential oil that stimulates the liver's Phase I and Phase II detoxifying enzyme systems and supports normal immune function.* Jarrow Formulas® d-Limonene is steam-distilled from orange peel and is purified to be food grade. d-Limonene is the major constituent of several citrus essential oils (orange, lemon and lime), and naturally occurs in citrus juices.
No wheat, no gluten, no soybeans, no dairy, no egg, no fish/shellfish, no peanuts/tree nuts.
USAGE: Take 1 softgel with or after a meal or as directed by your qualified healthcare professional. If persistent stomach upset occurs, discontinue use.
Supplement Facts
Serving Size 1 Softgel
Servings Per Container 60
Save this product for later