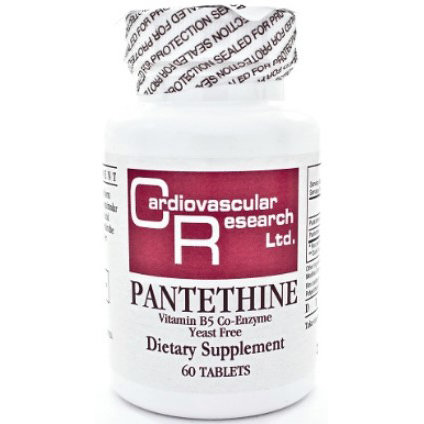 PANTETHINE 300 MG
SKU 696859132650
Product Details
Pantethine 300 mg, is a Vitamin B5 Coenzyme. Pantethine is a biologically active, intermediate form of pantothenic acid (vitamin B5) and a major percursor of co-enzyme A.
The form of B5 in this product is Pantesin®, which is a pure and highly absorbable form of Pantethine that provides safe and comprehensive support for healthy blood lipids.*
Pantethine may be beneficial in alleviating the symptoms of Candida Albicans.
Pantesin works at the cellular level, enhancing enzyme and metabolic activity to help maintain balanced cholesterol levels.*
In a review (McRae 2005) of twenty-eight clinical trials, pantethine has been shown to reduce total cholesterol by approximately 15%, LDL cholesterol by 20%, and TGL by 32%, while raising HDL by about 8%.

Save this product for later