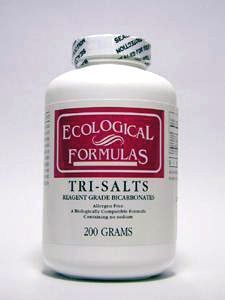 Tri-Salts Bicarbonate 200grams
SKU TRIS
Product Details
Tri-Salts Bicarbonate 200 grams
Tri-Salts contains nutritionally significant amounts of the essential macrominerals, calcium, magnesium, and potassium, as carbonates and bicarbonates without sodium or other salts.

Contents:

Calcium (carbonate) 450 mg
Magnesium (carbonate) 250 mg
Potasium (bicarbonate) 99 mg

100 Servings per container

The bicarbonates serve as unique buffering agents and neutralize acidity in the body. 200 grams per bottle.

Use:
Mix 1/2 teaspoon in water or desired liquid.
Save this product for later