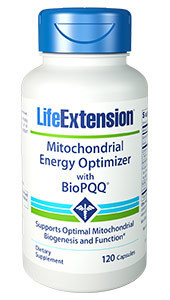 Mitochondrial Energy Optimizer 120capsules
SKU MITO
Product Details
Known as "cellular dynamos," healthy mitochondria produce the energy that powers cells. As people age, however, mitochondria both lose function and decrease in number. Life Extension's unique Mitochondrial Energy Optimizer with BioPQQ® was formulated to enhance mitochondrial function, protect delicate cellular structures, power-charge metabolic processes, and aid in the creation of new mitochondria.
Benefits at a Glance:
Supports healthy mitochondrial function and cellular energy output
Helps generate new mitochondria
Protects cellular structures against glycation reactions and free radicals
Inhibits inflammatory factors
Aids in cellular metabolism of glucose
Comprehensive Mitochondrial Support
As the importance of mitochondria for healthy cells comes into focus, researchers have identified a number of compounds that can help mitochondria function more efficiently and even help generate new mitochondria. These compounds have been combined into the innovative, multi-ingredient formula, Mitochondrial Energy Optimizer with BioPQQ®.
Serving Size 4 capsules

Save this product for later