My order was filled in a timely manner and the product is good in dealing with inflammation
Got my order quickly. This Ashwagandha helps me to relax and sleep and not have panic attacks like I used to. Thanks
I'm happy to be restocked with my old standby! Service was great. Order was processed and shipped in a timely manner. Thank you.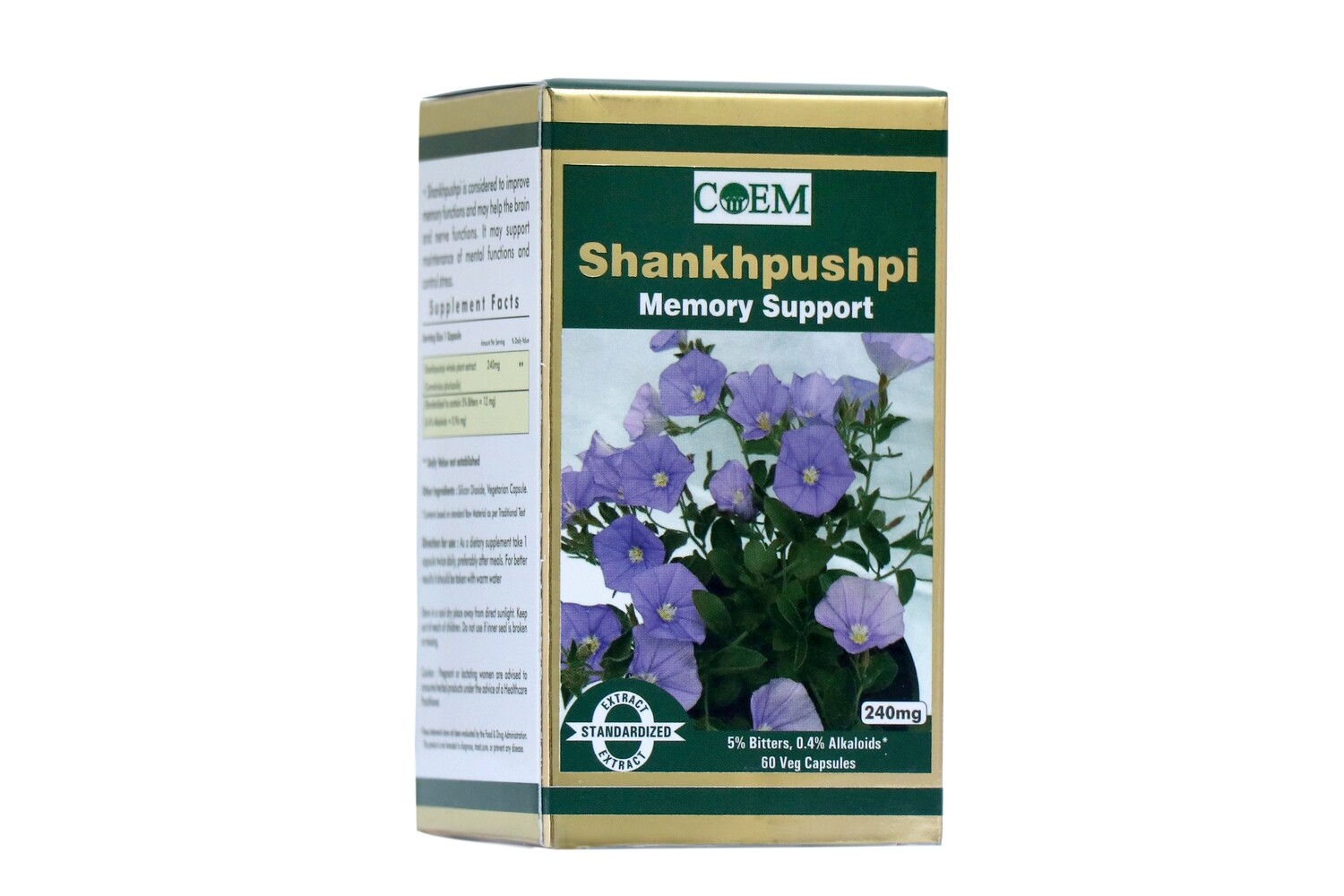 SHANKPUSHPI 60 CAPS
SHANK60
Product Details
Clover Product ID:
33811JK7YFQ3T
Key Product Features 1:
May aid test taking
Key Product Features 2:
Improves retention of information
Key Product Features 3:
Improve Recall
Key Product Features 4:
Promotes self-confidence & enthusiasm
Key Product Features 5:
Memory Support
Serving Recommendation:
1 capsule, twice daily, preferably after meals, with warm water
Product Benefit:
Memory Aid
Allergen Information:
Free of Sugar , Starch, Yeast, Wheat , Gluten, Corn, Barley, Soy, Fish, Shellfish, Nuts, Tree Nuts, Egg, and Dairy Products.
Number of Items:
60 capsules
Product Expiration Type:
On the label
Fulfillment Center Shelf Life:
3 Years
Created with promo.com The World's #1 Marketing Video Maker
View on Promo.comShankhpushpi 240 mg 60 caps
Enhances the mind's ability to recollect and remember things in a very effective manner. It relieves mental stress and controls blood pressure. Can help children to improve their memory, especially during exams. Shankphapushpi has gained popularity worldwide due to its natural memory enhancing properties. This makes the memory very sharp.
Clinical studies have exhibited demonstrable beneficial effects in the patients of anxiety neurosis. The herb induces a feeling of calm and peace, good sleep and a relief in anxiety and mental fatigue, producing a significant reduction in the level of anxiety and neuroticism arising due to various levels of stresses.
Indication: Helps in enhancing memory functions due to anti-oxidant activity. Helps to calm the nervous systems.
Dosage: Take 1 capsule twice daily, preferably after meals or as recommended by the Physician. For better results it should be taken with warm water.
Caution: Pregnant or lactating women are advised to consume herbal products under the advice of the physician.
Created with promo.com The World's #1 Marketing Video Maker
View on Promo.com
Save this product for later